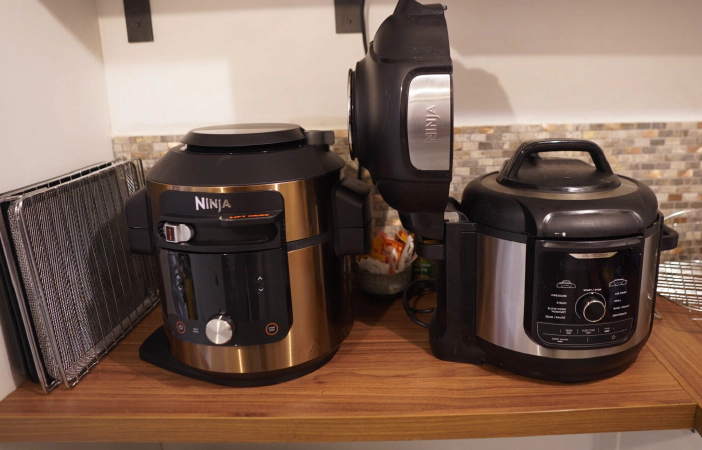 My first Ninja Foodi changed my life. No kidding.
You think at first, "yeah, I'll probably use it here and there a bit to make some nice meals."
No.
It'll end up completely replacing your oven.
It'll replace every slow cooker or pressure cooker kind of device you own.
It'll replace your big casserole pots. You know, the huge ones that hog your cupboard space.
Hell, it'll even replace your wok.
This thing is better than them all.
It was just over two years ago that I bought this wondrous contraption. I'll be honest, I bought it on a whim, late one night. And damn was it worth it.
But before I got it, I'd been looking at reviews, and quite frankly, I couldn't find any actual info about how good the Ninja Foodi is; how well it performs; whether it lives up to the hype.—
Over two years later, still, nope. The information out there is confusing, so let me clear all that up for you.
This is the Old Pre-SmartLid Model
The difference? The newer "SmartLid" ones have a single slider right bang in the middle of them that you swipe all the way from right to left to seal the pot, letting you select pressure cooking mode. For, you know, pressure cooking.
The old model could pressure cook just as well. I've tested it myself, but to seal the pot you have to put on the entirely separate lid it comes with to do that.
Advantage: it's easier to clean the old pressure lid
Disadvantage: it takes up cupboard space, and the old lid had a semi-common issue with the float valve not sealing by itself, meaning it'd keep releasing steam unless you did something about it. Nothing a rigorous shake wouldn't fix, annoying as it is.
All in all, I much prefer the newer SmartLid design. I wondered why they weren't always like this from the beginning to be honest, but I figure it's that they hadn't yet worked out how to have the air fryer parts in the former always-attached air crisp lid stand up to the stresses of high pressure pressure cooking.
Is the Air Fryer Function on a Ninja Foodi Better than an Oven?
Absolutely yes. I'd expected it to just be hype or marketing, but there actually is a difference. Air frying is like a blast furnace for your food.
Okay, maybe that's a bit of an unappetizing way to put it, but the principle is the same.
It blasts hot air, fast, over your food, making it much crispier than even the best fan oven can pull off.
Obviously that's suited to certain foods more than others. I tended to use the air crisp (air frying) function as default for basically everything, but to be honest it'd be better to use the bake function for a pie, for example, or for baking a cake.
Unless you like your Victoria sponge extra crispy. Yes, I'm judging you.
How Does the Newer SmartLid Air Fryer Compare to the Old One?
Even on my first use it was clear: The airflow is much better in the new SmartLid ones, and because of that, it cooks a faster. Say 13 minutes instead of 15 minutes for something at the same temperature, compared to the 20 minutes it takes in a fan oven (plus your oven's preheat time on top of that!).
That's not to say there was anything wrong with the airflow on the older ones. It's simply that the new ones are like they've added a turbo to them. You know that whoosh you hear in turbo car engines? That.
I recorded it for you. Car junkie or not, you can hear it clearly here:
Now compare it to my heavily used Ninja Foodi Deluxe XL, which has developed a bit of a bassy rattle that wasn't quite as wobbly-sounding when I first got it:
Now that probably sounds a little louder to you than the SmartLid model, but trust me that's mostly the bassy sound you're hearing that is getting picked up in my iPhone's microphone more strongly than it sounds in person.
The key takeaway is, the whoosh of the fan in the new SmartLid cookers is about twice as loud as the old brrr, to my ears. Louder than your oven or microwave for sure, but nothing that'd wake up your flatmates when you're making fried chicken at 2am in the morning.
Final Thoughts
Since this is an older model that is technically obsolete, there is one question that remains:
If it was on sale at a pretty good discount, would it be worth getting?
And the answer? It's a resounding yes.
If you want to try dipping your toes into the multi-cooker craze, then the Ninja Foodi Deluxe XL does basically all the things you'd use the newer one for, minus the combi modes like SteamCrisp, which to be fair, is really good.
But you know how you get around that? Just steam and then air crisp after. Sure it's not doing both at the same time and requires switching over manually after you hear that iconic beep-beeeep, but the result is basically the same — crispy on the outside, delicate and moist on the inside.
It's still available on Amazon, and looks like it's about 25% or so cheaper than the SmartLid one as of of the time of writing. At that price I'd just go for the new one to save a bit of cupboard space to be honest (the pressure lid), but if you could get one second hand or at a bit more of a discount then it's certainly worth it.
Happy cooking,
Brad