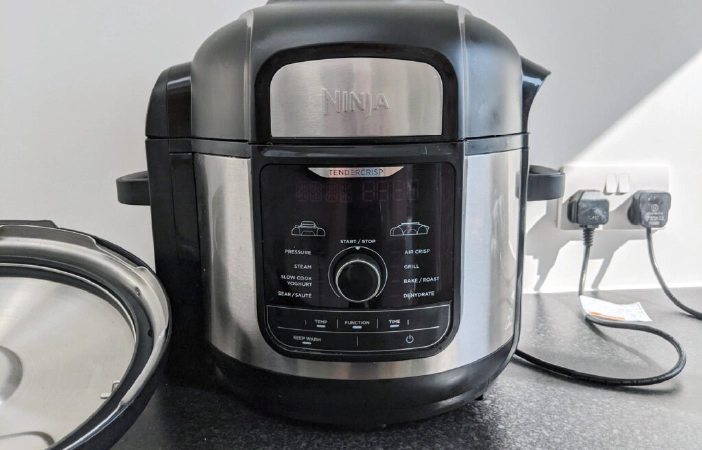 Multi-cookers like the Instant Pot and Ninja Foodi are super popular right now, and for very good reason.
I bought a Ninja Foodi Deluxe XL a little under a year ago, and honestly, it's completely changed how I cook. I mean, I basically never use the oven anymore except for pizza, and that's only because pizzas are wider than the Ninja Foodi is.
There's just so many reasons why my multi-cooker has taken over my kitchen, but if I had to pick a few main ones, it'd be these.
1. It'll Cook Far More Evenly than Your Oven
Even with a fan oven from a good brand, the issue is that the inside of a normal oven is just too unfocused compared to the inside of a multi-cooker.
"What do I mean by unfocused?" I mean that because of how large a normal oven is, you'd need a seriously powerful oven to get even close to the kind of cooking quality you can get out of the convection oven mode of a multi-cooker.
To put this into perspective, I have to lower the temperature by about 10 to 15 degrees at the very least in order to convert a regular oven cook time to my multi-cooker.
Now, you might be thinking "okay, then why not just turn your oven temperature higher?"
But it just doesn't work like that. That tends to make it worse. More unevenness.
It's not the oven's fault. That's why recipes don't usually say "set it to max and blast the living daylights out of it." It's just that a multi-cooker like the Ninja Foodi is just on a whole other level.
2. Pressure Cooking Is Far Better than Slow Cooking
I experimented for a long time with a slow cooker, and believe me, the house would smell incredible all day long from that slow-stewing goodness happening in the slow cooker.
But then, when it finally came time to taste it, it still tasted like "generic slow cooker food" no matter what I did.
I'm sure this is a familiar story to anyone who has tried slow cooked food before. It always tastes the same. Not bad at all, but certainly not incredible.
Well, you know that amazing smell of the food cooking that had been flooding the house all day? That's the flavor gone. Yep. They basically leak flavor, and combine that with how a slow cooker inevitably makes everything kind of a mush, you have the culprit of that "slow cooker taste" right there."
And if you're thinking that my recipes sucked, then I'll have you know those same recipes came out brilliant when done in the oven in a pot for a few hours instead. The difference was night and day.
Pressure cooking though? Flawless every time.
I seriously tried to overcook dishes and found it still came out perfect every time. Pressure cooking is seriously forgiving, and far, far quicker than using your oven.
So, let's just say I ended up using the pressure cooker function for basically anything it'd work for. It's something you didn't know you needed until you actually tried it.
3. The Energy Costs Are So Much Less
I worked out that compared to my oven, heating up my (extra large) 8-quart multi-cooker involves heating about 11 times less total space, and yet it's basically large enough to feed a few people at once with some seriously hearty meals.
Pressure cooking is even more energy efficient. With the pressure lid, the heat is basically trapped in really well, and the food cooks so quickly that it doesn't need to heat up for long.
Top that off with how you basically let the pressure naturally release for the final 15 minutes (meaning no energy is required) and it still cooks during that time, you can see why they're pretty darn energy efficient.
Final Thoughts
Sure, there are other functions, but these are the few I use the most.
Actually, there's also the sear/saute function which totally replaces your cooktop or hotplate and the pan. I actually basically just use that instead of my cooktop, but if you need more than one pan going at once (which is basically almost always), then you'll still use your cooktop.
Things like stir fry (for Japanese teriyaki yakisoba) I do entirely in the Ninja Foodi with the saute function though. It's insane just how much heat it can put out, and I find myself turning it down much earlier than I would on a hob because the heat stays high for significantly longer than a normal pan does thanks to the really, really good insulation.
Other than that, these are just the main reasons why I absolutely can't live without my multi-cooker anymore.
Stay tuned for more.